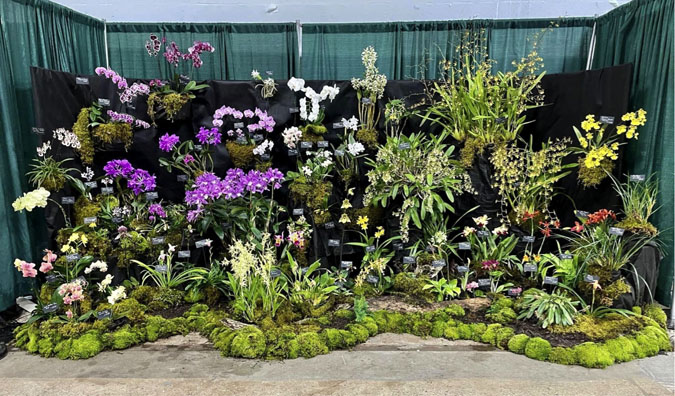 Maryland Orchid Society
January Meeting
Barb Schmidt, Raising Show Quality Orchids
Thursday, January 19, 7 p.m.
in person and Zoom
Barb will bring copies of her book, "Orchid Care: For the Beginner" to sell. It sells online for $18.95, but she sells it at $15.00 autographed at her talks.
---
I have the privilege of presenting my talk, "Raising Show Quality Orchids," for your orchid society on Thursday, January 19, 2023. I have been raising orchids for 15 years and showing them at the Philadelphia Flower Show since 2010. My first foray into showing orchids was a First Place Ribbon in the Novice Phalaenopsis Class for my Phalaenopsis Baldan's Kaleidoscope in 2010. I would like to take full credit for that ribbon, but I am pretty sure that luck had more to do with it than my ability at raising orchids.
Accepting the fact that raising show quality orchids would always be a skill that is tempered with luck, I began to research how to best increase my odds at winning. I have a bachelor's degree in biology and chemistry, so I began with researching orchid physiology and growth conditions. When my orchids still were not winning, I investigated how orchids were judged; and what characteristics the judges are looking for. My patience and research finally paid off in 2019 when my Phalaenopsis schilleriana won first place in the Master Orchid Class for species orchids.
I do not want to give away too much of my 2023 presentation, but here are some tips for preparing your orchids for shows that you can get started now. First, orchids are very cyclic. Given the correct growth conditions, they will bloom very near the same time each year. If you will be entering an orchid in a March show, the easiest thing to do is pick an orchid that consistently blooms in March. That being said, orchids can be "timed" to have their blooms appear when you want them, but this is a tedious process that requires the ability to control growth conditions.
Speaking of growth conditions, one of the most important factors to consider when raising orchids is if each specific genus has the correct amount of sunlight. The photosynthesis reaction is driven by sunlight, so too little sunlight produces lower amounts of carbohydrates. The orchid uses its stored carbohydrates for plant growth and blooming. If it has to pick one of those processes because it does not have enough carbohydrates for both, it will pick plant growth. This means you will get fewer or smaller blooms. So, make sure you are giving each orchid genus the amount of light it needs. Other things to consider are applying orchid fertilizer while it is growing and making sure it is getting enough water. When an orchid is growing or blooming, it requires more water.
To be continued…. If anyone has a specific question prior to January 2023, feel free to email me at basorchidcare@gmail.com, check out my website www.basorchidcare.com and look through the "Orchid Facts" or "Orchid Instructions" tabs, or go to www.aos.org and look at the Culture Sheets.

---
The meeting will begin with the December-January Virtual Show Table, in-person and by Zoom.
---
Maryland Orchid Society Membership Renewal 2022–2023

Click on image to download form.

It's time to renew your Maryland Orchid Society membership for 2022–2023. In addition to our monthly meetings open to all, membership benefits include the newsletter, eligibility for the show table and the awards and prizes pertaining thereto, and eligibility to put up plants for auction.

Of course, the most importamt benefit is knowing that your financial contribution ensures the promotion of orchid culture in Maryland, Pennsylvania, and DC!

This year, we have leapt into modern times and have added a number of convenient ways to pay your dues.
You can fill out and print out the attached membership form above and pay with a check at the meeting or by USPS.
You can fill out and print out the attached membership form above and pay with a credit card at the meeting! (Thank you, Brenda, for engineering this triumph!)

You can pay online RIGHT NOW using the secure link in the membership form above or clicking the PayPal icon below. You do NOT need a PayPal account — you can use a credit card for a secure online transaction, though you can, of course, use your PayPal account if you have one. (Thank you to Brenda and Bob and Susan Travers for this leap forward!)

Susan and Bob Tavers's Show take list
If you missed Susan and Bob's fabulous talk on getting ready for an orchid exhibit, here is a PDF copy of their time-tested Exhibit Tale List. Download your own and print.