If you missed Susan and Bob's fabulous talk on getting ready for an orchid exhibit, here is a PDF copy of their time-tested Exhibit Tale List. Download your own and print.

The 2023 Maryland Orchid Society Show and Sale will be held in the Main Building at Timonium Fairgrounds. Some may know it as the Cow Palace. Our sales and exhibits will be centrally located, set up adjacent to the food court. The Show runs from Friday, March 10 to Sunday, March 12, 2023.
Date (2023)
Time
Event
Tuesday March 7
9:00 a.m. (begins)
Set up staging, MOS only, Meet at Fairgrounds
Wednesday March 8
10 a.m. - 6 p.m.
Exhibit Set-up, MOS and Registered Exhibitors Only
Thursday, March 9
8:30 a.m. (begins)
AOS Judging and Sales Set-up, MOS and Vendors Only
Friday – Sunday, March 10–12
10 a.m. - 6 p.m. Friday
10 a.m. - 8 p.m. Saturday
10 a.m. - 6 p.m. Sunday
Show open to the public
The sales area will feature the finest seedlings and flowering plants from terrestrial orchids, to rare species, to the latest hybrids.

2023 Vendor List (Updated. Listed in alphabetical order):

Fair Orchids
J and L Orchids
Kelly's Korner Orchid Supplies
Little Brook Orchids
Mount Prospect Orchids
Orchid Enterprise Inc

---
Directions to the Fairgrounds:
From the Baltimore Beltway (I-695), take I-83 north. Exit at Timonium Road EAST. Turn left on York Road. Turn left into the Fairgrounds at the North entrance. Free parking is plentiful. Follow the crowds to the Main Building.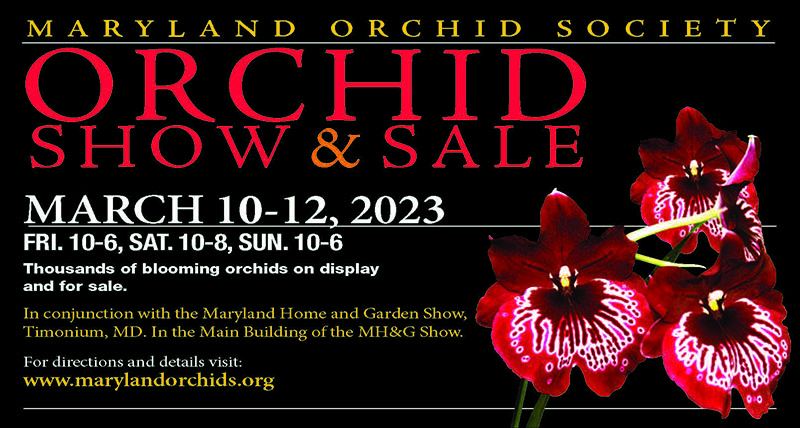 There is an admission price to the home and garden show. Admission will not only grant you access to the Orchid Show and Sale but a multitude of other vendors. For more information, please see https://mdhomeandgarden.com/spring/