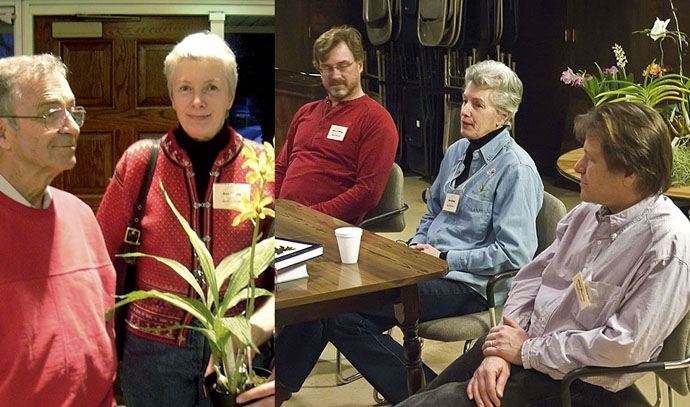 The Maryland Orchid Society
Mourns the Passing of Ann Lundy
With great sadness, we have been informed by Lee Lundy of the passing of his wife and our friend, Ann. She died on Sunday, September 28 after a long struggle with cancer. Ann was a tireless and faithful participating member of the Maryland Orchid Society, an accomplished grower of orchids and native plants, ace organizer, and a good friend. She will be greatly missed.

Notification of arrangements will be made when they are available.
Mark Your Maps!
The Maryland Orchid Society Has a New Meeting Home!
Starting with the next meeting, the Maryland Orchid Society will meet at Woodbrook Baptist Church, 25 Stevenson Lane, Baltimore, Maryland 21212.
After over twenty years meeting at Roland Park Christian Church, changes at the Church necessitated finding a new location. Woodbrook Baptist Church is located on Stevenson Lane just off North Charles Street. You can only turn one way whether you're coming from the north or the south on Charles Street. New amenities include:
Ample lighted parking in the back.
Air-Conditioned.
More bathrooms.
Lighter chairs.
More to follow as we approach our first meeting of the 2014 - 2015 Orchid Year.
---
Thursday, September 18, 2014, 7 p.m. Tom McBride presents The Maryland Orchid Society Show Table 2013-2014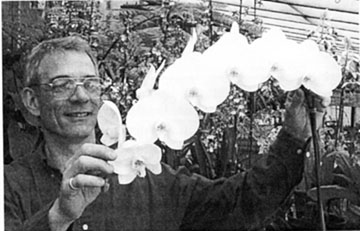 Tom McBride, our Show Table Chair, is an AOS judge and one of our local orchid gurus, growing and selling award-winning orchids and hardy tropical plants commercially at The Little Greenhouse for more than 35 years. As one of our long-standing members, he has been a pillar of our society and shared his enthusiasm and knowledge of orchids since joining MOS in 1979.
In September, Tom delivers his traditional and much anticipated summary of last year's show table results and participation winners from 2013-2014. Tom keeps track of ribbon winners for each class, as well as every member who places a plant on the show table each month, loans plants for MOS or away show exhibits, and/or puts in an exhibit at our annual show.
Ribbons count toward monetary awards, while loans and exhibits count toward points for free plants. For every three plant loans or exhibits, members will have the opportunity to pick out a seedling orchid plant of their choice from the many different species and hybrids Tom provides at the September meeting. Tom will distribute monetary awards for the first, second and third place winners of each class.
This meeting always whets our appetites for growing more, bigger or better plants and starts our new orchid season with an enthusiastic scramble for new plants to add to our collections. Tom will also talk about what the Show Table judges look for each month and how to improve your chances of winning a ribbon.
---
Calling All Beginner and Novice Orchidphiles -- Repotting Workshop September 27
The Maryland Orchid Society is having a members-only repotting event on Saturday, September 27, from 10:00 a.m. to 2:00 p.m.-ish at David and Margaret Smith's house. This fun event is hands-on and is designed to help beginners and novice members learn to repot their own plants.
Admission to the event is $5.00 (payable at the door) and will include light refreshments and potting media for the first repotted plant. There will be a $3.00 charge for each repotted plant or division after that. Members are encouraged to bring their own pots for potting. Should a member not have a plant available for repotting and still desire to participate, we will have some overgrown plants in need of repotting. You can get the experience of dividing and repotting, and take home the potted division for your collection.
Space for this event is limited, so be sure to sign up by September 20th by contacting David Smith or Sarah Spence.
---
Complete Awards for the 2014
Maryland Orchid Society Show and Sale!
Click here to download a copy of the complete show results (44 pages!).