Tom Mirenda's "Big Island Orchid Scene"
Thursday, April 19, 2018, 7 p.m.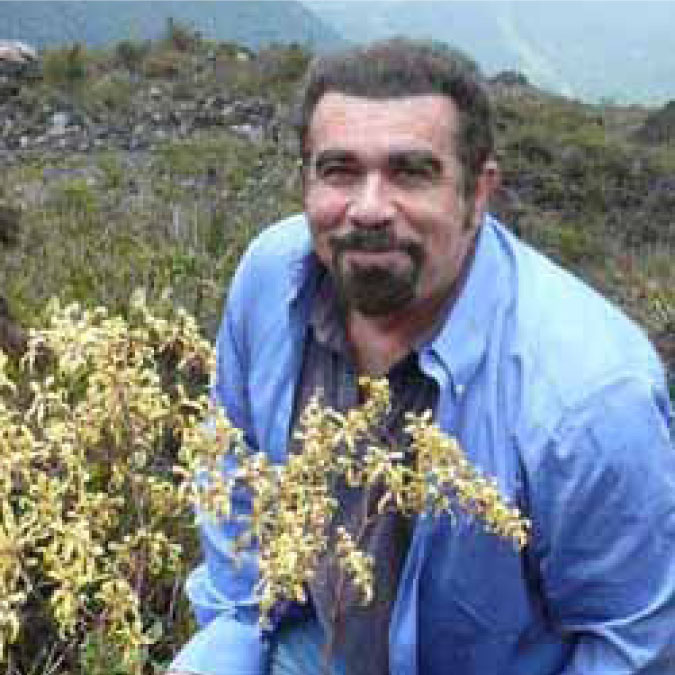 Tom knows he is most fortunate to have been able to return to the Hawaiian Islands (with a GREAT job) after spending almost a decade there in his youth in the 1980s. Then a Marine Biologist at the UH Manoa, Tom was a Scuba Diver and lab technician for the Hawaii Cooperative Fishery Research Unit, where he spent many months diving in remote northwest Hawaiian Island locations such as the French Frigate Shoals and Midway. While living on Oahu, Tom was a lab technician by day and a rock musician by night, playing for years at the now demolished Wave Waikiki night club. During this time, Tom became enchanted with orchids and emerged from the ocean to pursue a horticultural career.
Family ties brought him back to the New York area where he took horticultural positions at the New York Botanical Garden and Brooklyn Botanic Garden before accepting the role of Estate gardener at Greentree Estate (500+ acres) in Long Island where he cultivated all types of plants, but solidified his interest in orchids with a truly world class collection that he tended there. During this time (1990s), Tom was also the floor manager of the Greater New York International Orchid Show, of the greatest in the world. Sadly, when Greentree's owner passed it was decided that the collection be sold off.
Heartbroken, Tom looked for another orchid position, and found that Smithsonian Instituion was looking for some one like him. At SI, Tom expanded an already fantastic orchid collection and developed annual educational and ornamental exhibitions often 4 or 5 months in length! Hundreds of thousands, if not millions, of visitors have enjoyed these exhibitions over Toms 17 years there.
For the past 12 years, Tom has written two monthly columns (Tom's Monthly Checklist and Genus of the Month) for ORCHIDS magazine and recently (2017), along with two scientists from Kew, published The Book of Orchids for the University of Chicago Press which contains very intriguing and unusual information about 600 orchid species.
Most of all, Tom is most happy and truly proud to have returned to Hawaii as the Director of Horticulture Education and Outreach for the Hawaii Tropical Botanical Garden just north of Hilo. Already an exceptionally beautiful place, Toms intention is to make this garden THE Orchid Destination of the World!