Leon Glicenstein November 20, 2014, 7 p.m.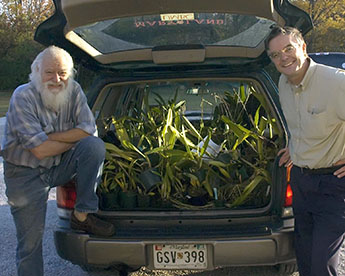 Leon Glicenstein, PhD, began growing orchids in 1954, and became assistant to the curator of orchids at the Brooklyn Botanic Gardens, then Carl Withner, from 1957 to 1960. He has advanced degrees in Chemistry and Horticulture, with an emphasis on plant breeding, cytology, and cytogenetics. Working as a plant breeder for five years at Linda Vista S.A. in Costa Rica, he photographed, in the wild, approximately 80% of the then known orchid species of Costa Rica. He also found new species such as Telipogon glicensteinii, Macroclinium glicensteinii, Pterichis leo, Stenorrhynchos glicensteinii, and Lepanthes glicensteinii. He won the second American Orchid Society Dillon/Peterson Essay Contest using one of his Costa Rican experiences. He has photographed many of the orchids in the Northeastern United States, Florida, and all of the orchids in California, where he located some taxa not formerly known to exist there. As a respected lecturer, has given numerous conservation oriented programs both nationally and internationally, showing orchids growing in their native habitats. Leon has been an invited guest speaker at both the Vancouver and Miami World Orchid Conferences. He has published numerous articles in the American Orchid Society magazine [including a 10 part series on Jewel and Painted-leaf Orchids with a supplement] and some in the Orchid Digest.
Leon joined Hoosier Orchid Company in September 1998. As a breeder, as well as a grower, of orchids at Hoosier Orchid Company Leon specialized in working with members of the Pleruothalidae, Zygopetalinae, Gongorinae, Angraecoid, Jewel and Painted-leaf orchids, as well as other groups. He has created numerous novel and new combination not before known, thereby extended our knowledge of generic relationships within the orchid family. Since the demise of Hoosier Orchid Company Leon has been consulting with other orchid companies on growing orchids from seed.
A strong conservationist, Leon was past chairperson of the American Orchid Societies Conservation Committee, and has been a member of this committee for decades. He represented the AOS at the international conservation meeting in Costa Rica in 2007. In 2013 he was made a Fellow of the American Orchid Society. Only 8 other people have been given that honor.
Before coming to Hoosier Orchid Company he worked for an internationally known plant breeding company breeding crops such as Chrysanthemum, Carnation, Azalea and Roses
---
Mark Your Maps!
The Maryland Orchid Society Has a New Meeting Home!
Starting with the next meeting, the Maryland Orchid Society will meet at Woodbrook Baptist Church, 25 Stevenson Lane, Baltimore, Maryland 21212.
After over twenty years meeting at Roland Park Christian Church, changes at the Church necessitated finding a new location. Woodbrook Baptist Church is located on Stevenson Lane just off North Charles Street. You can only turn one way whether you're coming from the north or the south on Charles Street. New amenities include:
Ample lighted parking in the back.
Air-Conditioned.
More bathrooms.
Lighter chairs.
More to follow as we approach our first meeting of the 2014 - 2015 Orchid Year.
---
It's Auction Time!! Saturday, November 15, 2014 at American Legion Dewey Lowman Post 109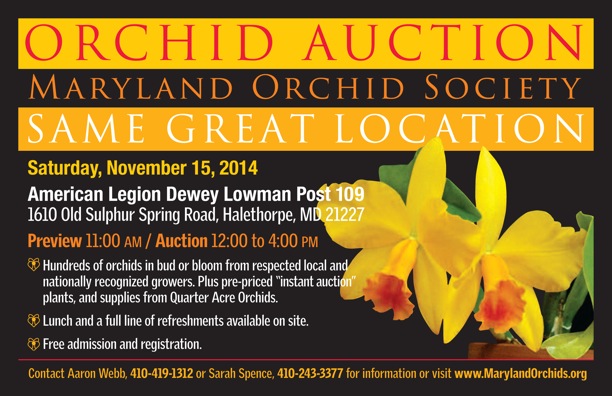 Great plants, great prices, great company. Don't even think about missing it. 1610 Old Sulphur Spring Road, Halethorpe, MD 21227
---
Complete Awards for the 2014
Maryland Orchid Society Show and Sale!
Click here to download a copy of the complete show results (44 pages!).