OCTOBER 1997 ORCHIDS - THE MAGAZINE OF THE AMERICAN ORCHID SOCIETY • 1
ORCHID WHO'S WHO
Merritt Huntington
A veteran orchid grower of 50 years is leading the crusade to build a Headquarters for the American Orchid Society
By Heidi Kirkpatrick
"HE'S BEEN AROUND ON EVERYTHING. He's a permanent fixture In the organization," says past AOS President Don Herman. Herman is speaking, of course, about Merritt W. Huntington, one of the definitive influences on the orchid community. Huntington's contributions have come at every level, from membership in four local societies (two of which list him as a charter member); to participation in the Eastern Orchid Congress, the American Orchid Society and in World Orchid Conferences.
Huntington was introduced to orchids by O. Wesley Davidson, for whom he worked at the Horticulture Department at Rutgers University. After an interruption by World War II, when Huntington served in the Maritime Service, he went on to work for John Lager in 1946 at Lager and Hurrell, at that time the oldest orchid firm in the country. In 1953, he Moved to Cali Orchids, where he introduced the use of bark to the east coast. There, he was known particularly for Paphiopedilum Maudiae, grown for cut flowers.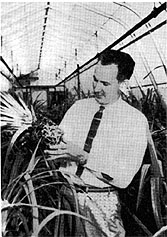 It was during this era that Huntington began his involvement with the American Orchid Society and with local societies, a relationship that is still strong today. In those days, monthly AOS judging was held in New York. The young Huntington helped in whatever capacity was needed, and the judges soon decided he was knowledgeable enough to become a judge himself. By 1955, Huntington was listed as an AOS judge. Soon after, he was on his first AOS committee; Huntington has been on or or chaired AOS committees for 41 years.
Looking back on his service to the AOS, he notes with a smile that he has been on virtually every conmmittee and has served on the AOS Board for 25 years, during that time holding every office. In addittion to beeing an AOS trustee, Huntington held the position of vice-president, and executive vice president, president and past president.
Left: Merritt Huntington was publicly welcomed to Kensington Orchids, lnc., in an advertisement for the firm in the September 1964 American Orchid Society Bulletin.
He says, "After that, you're supposed to be put out to pasture." Instead, he became treasurer for five years and secretary for five years. Currently, he is chair of the Headquarters Development Committee.
Huntington moved from the New York area to the suburbs of Washington, DC, in 1964, at the invitation of Edgar McPeak of Kensington Orchids. Huntington had come to Washington as a featured speaker at the 1963 Eastern Orchid Conference. He and his wife, Helen, were wined and dined by the McPeaks and given personal tours of Kensington Orchids; immediately afterward, Huntington received a letter inviting him to work for Kensington Orchids. He accepted and today owns this nursery, one of the most respected on the east coast.
Moving to the Washington, DC, area and becoming a member of the National Capital Orchid Society brought Huntington into contact with CIA operatives using orchids as a cover. He loves to tell tales of his brushes with the world of international spying, particularly those involving Jim Angleton, who was head of counterintelligence at the CIA. Angleton used to bring visitors to the greenhouses at Kensington Orchids as part of his cover identity. "He'd call us up and say, `I'm Peter O'Malley today.' " When Angleton arrived, Huntington would say, "How are you, Mr. O'Malley? Nice to see you," and invite him to escort his guest through the greenhouses. Occasionally, Angleton would request a big box of cut flowers, "the most unusual stuff we had in the place," Huntington says, adding, "It usually meant that some really `big wheel' from Israel was at the embassy."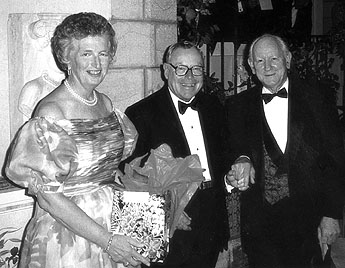 Above: Merritt Huntington presented a special orchid to Mr. and Mrs. Fitz Eugene Dixon at the AOS 75th Anniversary Gala in Palm Beach, Florida, in March 1996. Mr. Dixon's father, for whom the orchid was named, was the Society's second president, serving from 1929 to 1937.
During his decades as a grower, Huntington has seen significant changes in the orchid industry. The emphasis among commercial growers has shifted from primarily cut flowers to almost wholly pot plants. Orchid growers themselves have changed, too. "In those days," says Huntington of his early years of growing, "you were a commercial grower, or you were the grower for the DuPonts or somebody, or you were the DuPonts." But meristemming has made quality plants more affordable, with the result that most hobbyists maintain collections on much smaller budgets.
Orchid growing methods have also changed. Huntington remembers the days of toxic pesticides, which were commonly used on orchids before their dangerous side effects were fully understood. He tells about scaring a federal inspector "almost out of his skin." The inspector asked what was used to control spider mites on cymbidiums, in reply to which Huntington described a shotgun spray mix including Parathion and Aramite. "He wouldn't even go in the greenhouse," says Huntington.
He is not the only one with interesting anecdotes to relate. Ned Nash, now AOS director of education and conservation, remembers with amusement the infamous haircut episode at an AOS auction. Nash, whose hair had grown rather long, recalls, "Merritt took a look at me and stuffed a dollar bill in my pocket. He said they obviously didn't pay me enough." It set a precedent and soon others were slipping Nash smirks, sly comments and dollar bills. At the Affiliated Societies breakfast, Nash told Huntington that if it was so important to him, he should auction off a haircut. "I was joking, of course, but Merritt stood up and announced I was donating a haircut to the auction." Nash remembers rather desperately giving a friend $100 for bidding, but past AOS President Mary Dunnell had the winning bid to give him a decent haircut.
Merritt Huntington and auctions do indeed go together. Long before participating in the first AOS auction at Marie Selby Botanical Gardens, Huntington was an auctioneer for local societies, beginning with the Long Island Orchid Society, of which he is a charter member. His wife, Helen, recalls with amusement the evolution of his auctioneering costume, which has included at various times a knitted vest with an orchid pattern, orchid ties, a cowboy hat for a Texas auction, and the current straw hat with price tag attached. At one AOS auction, Huntington sold the vest he was wearing to help raise money.
In recognition for his service, Huntington has received two EOC gold medals and an AOS gold medal. In 1992, the AOS approved the prestigious Merritt W. Huntington Award, given to the most outstanding First Class Certificate awarded in the previous calendar year. Wry as ever, Huntington comments that, "they're going to run out of genera to name after somebody, so the poor guys coming afterward are out of luck."
Mary Noble McQuerry, who has known Huntington "forever", notes that he has "as many friends in the orchid world as anybody." She's right. And from all of your friends, Merritt, thank you for your contributions and enthusiasm.
Heidi Kirkpatrick would like to thank Jack Herbert and the others mentioned in this article for sharing their histories of Merritt Huntington. She last wrote for the September 1997 Orchids. • 4516 Colonel Gardiner Court, Upper Marlboro, Maryland 20772 (email g_pierce@juno.com).